Pal-o-Mine Campfire Ice Cream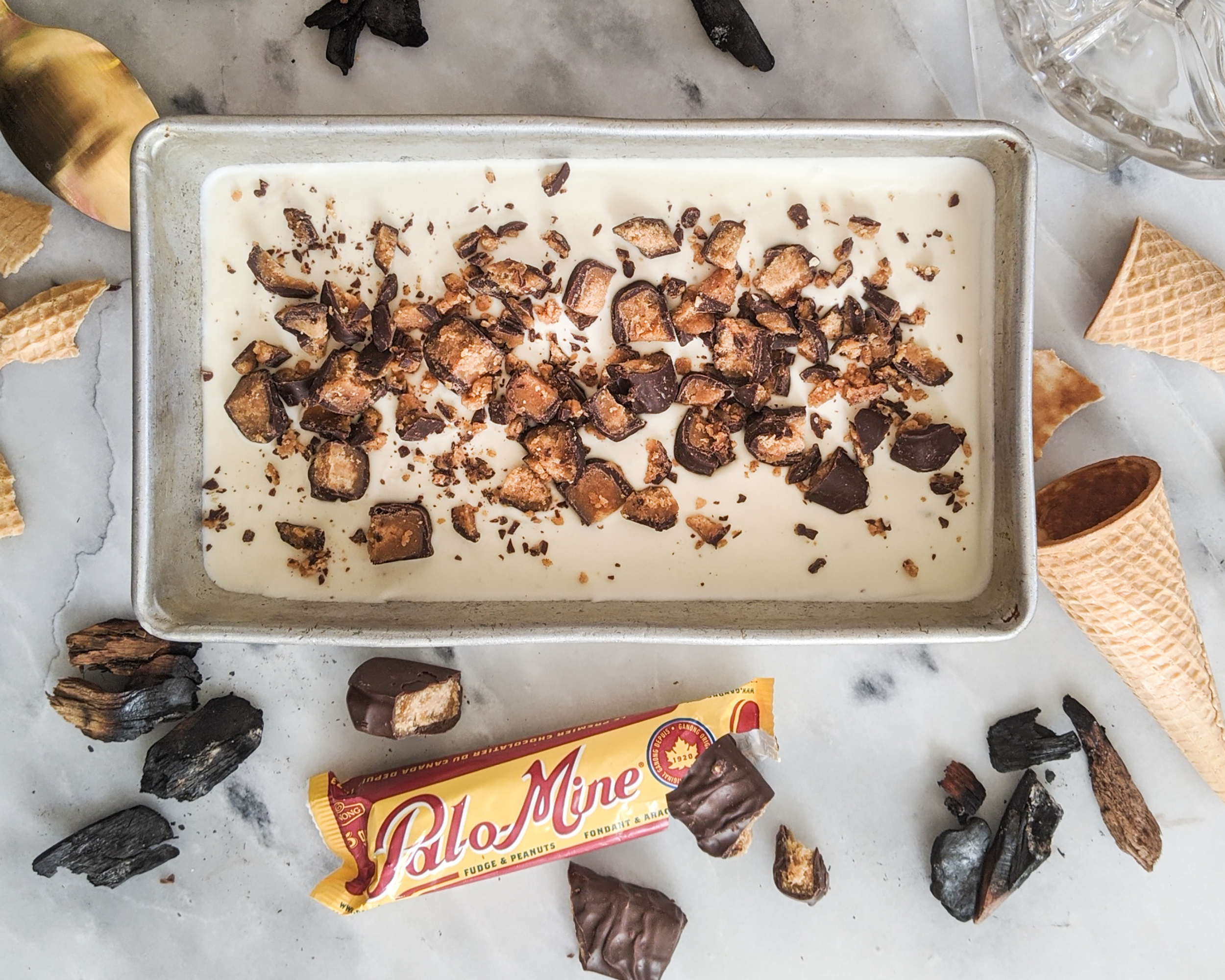 In honour of the Pal-o-Mine 100th Anniversary, we asked MasterChef Canada winner Jennifer Crawford to create a special outdoors-inspired recipe using Pal-o-Mine bars to compliment our #SharedBetweenPals contest.
This no-churn ice cream tastes like a hangout at the campfire smells, watching the fire roar and sharing a Pal-O-Mine together. If you have a smoking gun or an actual smoker at home, feel free to use those in order to smoke the cream! If you have neither, that's ok – this method will show you how to make it happen with some wood chips, your stove, and a kitchen torch.
Ingredients
2 cups cold whipping cream
1 tsp kosher salt
2/3 can (200ml) sweetened condensed milk
4 Pal-O-Mine bars, chopped into 1cm or smaller chunks
Cast iron skillet, lined with a ring of crumpled foil
1/4c wood chips, dry
1/4c wood chips, dampened with a spray bottle
Kitchen torch / strong BBQ lighter
9"x13" sheet pan
Loaf pan for freezing (around 9" x 4" x 3")
Directions
Put the loaf pan into the freezer to chill.
First, we are going to smoke the cream. Pour the 2c of cream carefully onto the sheet pan, and place on the top rack of your oven. (Note: using a sheet pan creates more surface area for the cream to soak up the smoky flavour!)
Open your kitchen window, as things are about to get a little smoky! Arrange the cast iron skillet on the bottom rack of the oven. The crumpled foil should act as a little "fire pit" for your wood chips. Put the dry wood chips into the centre of the foil. Use your kitchen torch to ignite them. Then, carefully arrange damp wood chips on top and surrounding. It should be smoking and smelling like a campfire! Close the oven door, and let sit in the smoky environment for 20 minutes.
Once the 20 minutes are up, pour the smoked cream into your mixing bowl, and refrigerate until cold again. Discard the woodchips and foil in the skillet.
In a stand mixer with the whisk attachment (or with a hand mixer), whip the smoked cream with the salt into stiff peaks.
Put the 200ml of sweetened condensed milk into a large bowl. With a spatula, fold ⅓ of the smoked whipped cream into the sweetened condensed milk until uniform.
Add the remaining smoked whipped cream, folding gently until the mixture is uniform. Add half of the chopped Pal-O-Mine bars and fold to combine.
Pour the smoked cream mixture into your chilled loaf pan. After 2 hours, when the mixture has firmed up a bit, sprinkle the top with the remaining half of the Pal-O-Mine bars.
Freeze for a minimum of 4 more hours before scooping and serving. Enjoy!